Why is quinoa all the rage? Good question! If you've ever tried quinoa, you know that it's delicious but also really mild and neutral tasting – kind of like rice – so works well with just about any
flavours
you want to add.
Savoury
, sweet, Mexican, Mediterranean … with quinoa, it's all good!
Quinoa is usually lumped together with whole grains, along with others like barley, amaranth, spelt and oats. But, technically, quinoa isn't a cereal grain at all. (According to the experts, quinoa is actually botanically related to beets, chard and spinach) Still, it's cooked and eaten like grains and has a similar nutrient profile, and you often see it used in recipes in place of oats (like in hot breakfast cereal), rice and other whole grains.
What's really awesome about quinoa is that it's one of the only plants that has all the amino acids needed to be a complete protein (great for vegetarians!), and it has a very high ratio of protein to carbohydrates. The carbs it does have, though, are complex carbs, so, like other whole grains, quinoa will help you feel full longer and is a better source of sustained energy than simple carbs. Plus, quinoa is loaded with goodies like
fibre
, potassium, magnesium and iron. And it's gluten free!
Depending on your supermarket, you're probably most likely to find quinoa in the organic/natural foods section or near the rice and couscous. It's usually in small boxes or bags, about 400 grams each.
Quinoa Recipes to Try:


Mexican Black Bean and Quinoa Salad:
Ingredients:
1 cup cooked quinoa
1 Can Black Beans, rinsed and drained (substitute for kidney beans if you can't find)
1 cup corn
2 tomatoes, chopped
1 small red onion, chopped
1 Capsicum, diced
1 Red chilli, seeded (optional)
2 tablespoons coriander, chopped
1 lime
2 tablespoons olive oil
1/2 teaspoon ground cumin
1 teaspoon salt (optional)
pepper to taste
1 avocado, chopped
Directions:
Prepare the quinoa according to package directions. Allow to cool, or chill for two hours.
Combine the quinoa, beans, corn, tomatoes, onion, chili, and cilantro and toss. Squeeze the lime juice over the salad. Add the olive oil, cumin, salt and pepper and toss again lightly. Add the avocado last, tossing it in gently into the salad.
Serve at room temperature, or allow the salad to chill for an hour.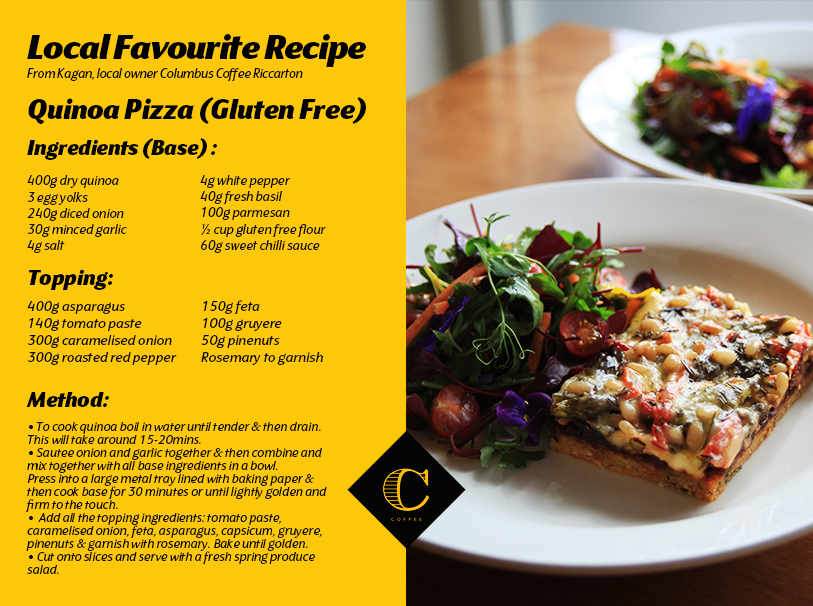 Sweet Potato & Quinoa Salad.
Brought to you by MiNDFOOD.
Serves 4
2 tbsp lemon juice
pinch of sugar
1 tsp Dijon mustard
1 tbsp yoghurt
¼ cup olive oil, plus 3 tbsp
1kg sweet potatoes, cut into wedges
1 tsp chilli flakes
vegetable oil, for frying
250g haloumi, thinly sliced
2 cups quinoa, cooked
½ cup walnuts, toasted and
chopped
1 cup kale, shredded and blanched/steamed
½ cup parsley leaves
2 spring onions, finely chopped
1 cup pomegranate seeds
To make salad dressing, place lemon juice, sugar, mustard, and yoghurt in a small bowl and whisk to combine. Gradually add ¼ cup olive oil and whisk until smooth.
Preheat oven to 200°C. Place sweet potatoes, 3 tablespoons olive oil, and chilli in a large bowl and gently toss to combine. Place potatoes on a baking tray and roast for 20-25 minutes, or until golden. Set aside.
Heat vegetable oil in a large frying pan and cook haloumi in batches for 2-3 minutes on each side, or until golden. Drain cheese on paper towels.
Place quinoa, walnuts, kale, parsley, onions, and pomegranate seeds in a large bowl; pour dressing over salad; and toss well to combine. Place sweet potatoes on a large serving platter, spoon quinoa salad over sweet potatoes, and top with crisp haloumi.


This I'm Loving At The Moment:
Red Seal's new tea range:
I recently stumbled upon this new tea range in the supermarket. I took the strawberry and rhubarb home and from the first sip I was hooked! So tasty and no added sweeteners like some other brands which is a definite plus! With Summer and the holiday period upon us, why not give these a go - they are yummy both warm or cold - you can even brew it with water straight from the tap.
Red Seal challenged nutritionist and blogger Libby Matthews (of
Julia and Libby
), and Hancock's mixologist Matty Bradley to design their own summer drinks using the range. Here a a couple of them, they sound delicious to me...
Avocado Oil:
This beautiful emerald oil is not as well known or used as olive oil, however its health and culinary properties are just as impressive, maybe even more so. Like olive oil it's pressed directly from the fruit (avocados are naturally about 30% oil), rather than being chemically extracted like many other plant oils. All they do is press the avocados and it mushes it to a pulp containing oil, and then it is centrifuged to separate the two. It's pretty much as simple as that.
Cold-pressed avocado oil means no heat was needed to do this, retaining as much of its nutrition as possible. It is also made up mostly of healthy monounsaturated fats, and high in vitamin E and antioxidants. What is quietly amazing about avocado oil is it's naturally high smoke point. What this means is that it is suitable for high heat cooking (as well as low and medium heat cooking), so I use it for things like stir-fries or cooking steak when I want to get the pan really hot. With increased production of avocados, the price of avocado oil is coming down, and you can now get good quality avocado oil that is comparable in price to olive oil.
Move over coconut oil!
San Remo Spelt Pasta:
What
- Spelt is an ancient, nutty-flavoured grain that's remarkably high in both fibre and protein (many brands boast up to 8 grams of fibre/serving). It is more nutritious than wheat, although less widely produced (its hard hulls are expensive to mill).
Why - A good source of thiamin and niacin, spelt pasta has more than twice the fibre of regular wheat pasta.